Description
JUNIOR TECHNICAL SUPPORT ENGINEER
Hoofddorp – The Netherlands
Hungry, Honest, Humble, with Heart!
The Opportunity
This Role is Hybrid
Nutanix is a constantly growing company, the scope of our teams expands with the objective to provide the best support for our fast-growing customer base. We are excited to bring in a new wave of talented Technical Support Engineers into our company! If you are someone that: loves technology and innovation; have a customer first mindset; have eagerness to learn and want to enhance your skillset in our leading Hyperconverged Infrastructure (HCI) technology and Hybrid-Cloud solutions, come be part of the family and help us provide our customers with an exceptional support experience.
Sound like you? Read on!
Technical Support at Nutanix
Here at Nutanix we drive the success of our customers through passion and teamwork, ensuring quick response times and unparalleled customer satisfaction; our 90/100 NPS score is a testament to such objective. Our diverse, multicultural team of top-notch engineers act as our customers champions, working closely with Engineering, Field, and Sales teams. Our teams love to have constant learning opportunities and aim to become experts in Virtualization, Networking and Storage.
Your Role
Remotely troubleshoot, debug, and diagnose customer issues.

Interact directly with our Engineering team to drive product improvements based on feedback from the field.

Collaborate with technology partners (eg. VMware, Citrix, Microsoft) to resolve cross-vendor issues and push improvements in the ecosystem.
Overall provide an excellent and pleasant support experience to all our customers.
What You´ll Bring
1+ years of experience in troubleshooting and debugging complex issues.

Expertise with Virtualization or Networking or Storage. Linux or Windows as OS, and Cloud Technologies.

Experience supporting external customers and a customer first mindset.

Fluent speaking and written skills in English and professional proficiency in one or more EU languages (e.g., Spanish, Italian, German, French, etc.)

Passion and ability to learn new things.
About the Opportunity
Meet Joaquin Martínez 
I Joined Nutanix in 2013 as we were a David against the Goliath, and yet we always won by creating disruption in the market and offering innovation and flexibility to our customers. I´ve previously worked in places such as Brocade and Unisys way back in the day, amazing places that offered learning and growth opportunities.
My biggest personal win so far has been raising two amazing kids away from my home country. And my biggest professional win so far has been joining Nutanix! Best decision of my professional career.
When it comes to candidates, I look for People willing to learn, grow and contribute with their knowledge to the growth of Nutanix to keep creating disruptive and innovative technologies.
I´m currently involved in life groups that promote teaching of right values to kids involved in tech. So we can leave a better planet for the upcoming generation. 


How We Work
We are a fully hybrid team based in Hoofddorp, just 15-20 minutes by train from Amsterdam, and based in the comfort of our own homes. We try and meet up as a full team monthly to reconnect, share ideas and to socialize outside of working hours! We organize our working shifts and aim towards the appropriate work-life balance for all our team members.  When working from home, you will still feel connected to the team with our weekly meetings, 1-1s and daily slack (instant messaging) chats with the other marketeers!
#LI-FA1
#LI-Hybrid


We're an Equal Opportunity Employer

Nutanix is an Equal Employment Opportunity and (in the U.S.) an Affirmative Action employer. Qualified applicants are considered for employment opportunities without regard to race, color, religion, sex, sexual orientation, gender identity or expression, national origin, age, marital status, protected veteran status, disability status or any other category protected by applicable law. We hire and promote individuals solely on the basis of qualifications for the job to be filled.
We strive to foster an inclusive working environment that enables all our Nutants to be themselves and to do great work in a safe and welcoming environment, free of unlawful discrimination, intimidation or harassment.
As part of this commitment, we will ensure that persons with disabilities are provided reasonable accommodations. If you need a reasonable accommodation, please let us know by contacting CandidateAccommodationRequests@nutanix.com.
Notice to Applicants Re: Fraudulent Recruiting Scams, please review the following link [consumer.ftc.gov] to safeguard yourselves. Candidates seeking jobs at Nutanix have recently been targets of these recruiting scams including FAKE G-mail accounts posing as ACTUAL recruiters on our team, so please safeguard yourselves by following instructions in the link. If you have any concerns surrounding suspect recruiting practices, please email recruiting-scams@nutanix.com for verification.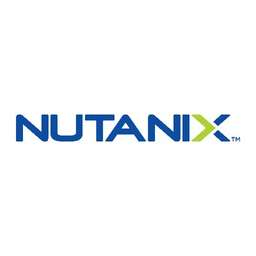 Nutanix
Data Center
Enterprise Software
Software
Virtualization
2 appplies
185 views