Description
Kodiak was founded in April 2018 to develop autonomous technology that carries freight forward—so people, partners, and the planet thrive. Navigating highway environments presents vastly different challenges than urban streets. Kodiak's experienced team has developed the industry's most advanced technology stack purpose-built specifically for long-haul trucks. From our sensor fusion system that maximizes the value of every sensing modality, to our unique lightweight mapping solution that allows our trucks to navigate ever-changing highway construction zones, our world-class team of industry pioneers is bringing the benefits of autonomy to the $800B a year trucking industry quickly, safely, and efficiently.
We are looking for an experienced Software Engineer to join our Planning team and take a key role in improving the Kodiak Driver's ability to safely and gracefully handle challenging road conditions.
You will:
Design and implement new approaches to help our trucks plan through challenging situations.
Translate desired driving behaviors into algorithms, code, and cost functions that make the Kodiak Driver a safe, smooth, and polite road participant
Predict the behavior of other actors in a way that's both accurate and improves driving performance
Improve the end-to-end latency of the motion planning and prediction algorithms
Build tools that enable us to leverage real-world logs to improve our algorithms
Work closely with other teams to establish interfaces and requirements
Invent cross-functional solutions to cutting-edge problems in autonomous-driving
You must have:
A strong background in robotics, planning, optimization, and mathematics (MS, PhD, or equivalent experience)
Software development experience writing production-level C++
High standards for software quality and rigor, and a testing-oriented mentality
Good communication skills and a collaborative bent
Proven ability to iterate quickly and work hands-on
Bonus points if you have:
Written software that has run on real robots
Knowledge of modern C++ (c++14 and newer) and version control systems (e.g., git)
An understanding of both classic and state-of-the-art approaches to motion planning, trajectory optimization, optimal control, system modeling, etc.
A desire to collaborate with other teams outside of planning
What we offer:
Competitive compensation package including equity and biannual bonuses
Excellent Medical, Dental, and Vision plans through Kaiser Permanente, Anthem, and Guardian (including a medical plan with infertility benefits)
Flexible PTO and generous parental leave policies
Office perks: dog-friendly, free catered lunch, a fully stocked kitchen, and free EV charging
Long Term Disability, Short Term Disability, Life Insurance
Wellbeing Benefits - Headspace, One Medical, Gympass, Spring Health
Fidelity 401(k)
Commuter, FSA, Dependent Care FSA, HSA
Various incentive programs (referral bonuses, patent bonuses, etc.)
The salary range for this full-time position is $175,000-$250,000 + bonus + equity + benefits. Our salary ranges are determined by role, level and location. The range displayed on each job posting reflects the minimum and maximum target for new hire salaries for the position across all US locations. Within the range, individual pay is determined by work location and additional factors, including job-related skills, experience, and relevant education or training. We can share more about the specific salary range for your job level during the hiring process. Please note that the compensation details listed above are base salary only and do not include bonus, equity, or benefits.
At Kodiak, we strive to build a diverse community working towards our common company goals in a safe and collaborative environment where harassment of any kind is strictly prohibited. Kodiak is committed to equal opportunity employment regardless of race, ethnicity, religion, gender identity, sexual orientation, age, disability, or veteran status, or any other basis protected by applicable law.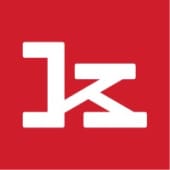 Kodiak Robotics
Autonomous Vehicles
Information Technology
Logistics
Robotics
Transportation
0 appplies
91 views
Other Jobs from Kodiak Robotics