Description
We believe aircraft should fly themselves. Automated aviation systems will enable a future where air transportation is safer, more convenient and fundamentally transformative to the way goods — and eventually people — move around the planet. We are a team of mission-driven engineers with experience across aerospace, robotics and self-driving cars working to make this future a reality.
As an engineer at Reliable Robotics, you will work with a team of mission-driven engineers with experience across aviation, space, robotics and self-driving cars to make this future a reality. Reliable Robotics has year-round internship opportunities for students pursuing a degree in aerospace engineering, mechanical engineering, robotics or a similar field of study. Successful candidates will work alongside senior engineers to design, develop and test flight systems.
As a Test Automation Engineer Intern, you will be a part of the Testing team. The Testing team owns the hardware-in-the-loop (HITL) test environments, which means we own the physical hardware construction and maintenance as well as the software infrastructure that enables automated and manual tests. Additionally, our team uses these HITL environments to test Reliable Robotics autonomous systems. In summary, this team develops and maintains essential test tools for the company, and directs HITL verification and validation activities to ensure our product is safe, successful and meets certification requirements.
Responsibilities
During your internship, you will add features and functionality to the existing HITL software infrastructure. You will collaborate closely with engineering teams across the entire company, as these test environments are critical for verifying our products. You will also have the opportunity to own a project from proposal and design all the way through implementation and testing. We believe interns will learn the best by doing, so our goal is to provide you the mentorship and support to deliver innovative and exciting work.
Basic Success Criteria
4-year college degree in computer science or equivalent practical experience
Previous experience with C/C++ and Python
Excellent written and verbal communication skills
Attention to detail
Preferred Criteria
Demonstrated ability to work in a self-directed manner in a fast-paced environment
Previous internships as a Test Automation Engineer, Software Engineer, or Test Engineer
Learn more about the internship experience at Reliable Robotics from former interns:
link
This position requires working from our headquarters in Mountain View, CA. However, we are flexible with working from home depending on the project and program schedule.
The estimated annualized salary for this position is $102,000
Reliable Robotics does not presently sponsor candidates for employment visas. In order to comply with export control regulations applicable to our technology and products, all candidates for this position must reside in the United States and be "U.S. persons" for purposes of the Export Administration Regulations (i.e., a U.S. citizen, a lawful permanent resident, or lawfully admitted into the U.S. as refugees or granted asylum in the U.S.) or otherwise eligible to access our technologies without an export license.
At Reliable Robotics, our goal is to be a diverse and inclusive workforce.  As an Equal Opportunity Employer, we do not discriminate on the basis of race, religion, color, creed, ancestry, sex, gender (including pregnancy, childbirth, breastfeeding, or related medical conditions), gender identity, gender expression, sexual orientation, age, non-disqualifying physical or mental disability or medical conditions, national origin, military or veteran status, genetic information, marital status, or any other basis covered by applicable law. All employment and promotion is decided on the basis of qualifications, merit, and business need.
If you require reasonable accommodation in completing an application, interviewing, completing any pre-employment testing, or otherwise participating in the employee selection process, please direct your inquiries to work@reliable.co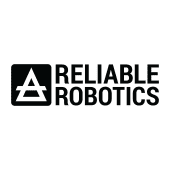 Reliable Robotics Corporation
Air Transportation
Autonomous Vehicles
Industrial Automation
Information Technology
Logistics