Description
WHO WE ARE
We are a modern, embedded payroll provider that helps empower companies to build their own unique payroll service. On top of our easy-to-use payroll API, we are pioneering an all-inclusive tax engine to democratize a broken and cumbersome process providing accessibility to small, medium, and large businesses and helping Americans get paid.
Backed by over $14 million in funding by top investors such as Y Combinator, Spark Capital (Marqeta, Coinbase, Affirm), and Robinhood's Founder; Vlad Tenev we are projected to be a forerunner in embedded payroll with an industry amassing billions of dollars in untapped revenue.
Our mission is to empower companies to become their own fin-tech company using our simple, seamless, and forward-thinking payroll technology and we'd love to learn more about you and how you could be a fit for our growing team!
ABOUT THE ROLE
All our engineers here at Zeal are full-stack engineers, but we take concerted efforts on aligning with your background, qualifications, and interests and this role will focus more on our tax engine and payments side of our product (more back-end focused). 
We are expanding our product and features and therefore there are lots of opportunities to grow how you want. Some things you could be working on in this role would be working within our compliance, payments, white-label components, and developer tools within the payments API industry (embedded payroll) product.
‼️ Salary for this role is between $150-175k (+ sign-on bonuses) with equity from a series-A company and is remote with a few company-sponsored trips to San Francisco a year.
SOME THINGS YOU MAY BE WORKING ON
Our engineering team is super into Typescript and we're built on React/Redux, Node, MongoDB, and AWS and all split up into microservices. Locally we use yarn 3, esbuild.
This role focuses 80-90% on building and coding in our codebase, but there will be opportunities to mentor and give input to other aspects of the business since we are a small and flat organization.
Some future projects in the backlog we'd love you to take ownership over could be:

Improvements to tax management stack, developing features to help our Partners scale with our API, and strengthening our services + infrastructure to handle large enterprise customers

Work with a team of 10-15 engineers from Microsoft, Apple, Intuit, Namely, Blend, and other cool start-ups who will advocate and champion your success in a collaborative environment.
You will get to work directly with our founders and other heads of departments from Stripe, Square, Microsoft, Apple, Brex, and others... which will only increase your business acumen and provide lots of opportunities to get closer to our product vision and strengthen our team's cross-department collaboration.
YOU HAVE
5+ years of professional software engineering experience
You're comfortable coding in full-stack Javascript (React, Typescript, Node.js)
You've built products end-to-end, working closely with product and design teams
You have experience mentoring junior developers and are excited to act as a Tech Lead
You are a commiserative developer and value working in a diverse and collaborative environment
OUR INTERVIEW PROCESS
Step 1: ✋ Chat with our recruiter - Grace - 30 mins
Step 2: 💬 Chat with our CTO - Pranab - 30 mins
Step 3: 💵 Paid Take-Home Assignment - 3-4 hours
Step 4: 💻 Final Interview - 2.5 hours
Final Interview Details: Review assignment with CTO and another Engineer, have a coffee chat with someone, and a final call with someone from leadership to learn more about the vision and mission of Zeal
OUR CULTURE
We are a tight-knit, inclusive community that is into: music 🎵, cocktails 🍹, pets 🐈🐕, ping-pong 🏓 and above all else ~ high quality espresso ☕ but more importantly we value championing for our staff to bring their authentic true selves to work and aim to provide a fun and collaborative work environment for everyone! 
OUR BENEFITS
🩺 100% health coverage premium paid by the company; vision, dental
💸 Generous salary and equity for all staff
🪟 10-year equity option exercise window for all employees
🪜 401k option; helping you save for the future
💳 Monthly benefits stipend to use for lunch, commuting, and other essentials
📸 Free professional headshot for your LinkedIn
🕺🏼 Weekly Happy Hour and lots of Events (board games, trivia, bowling, VR, golfing, hiking)
👏 Company Wide Offsite every year (2022 was Sonoma and Napa 🍷)
🦓 Awesome Swag
If you have any questions about the role, our process, or anything else before applying, feel free to reach out to me at grace@zeal.com
Our company (Puzzl Group, aka Zeal) is proud to be an Equal Employment Opportunity and Affirmative Action employer. We do not discriminate based upon race, religion, color, national origin, gender, sexual orientation, gender identity, gender expression, age, status as a protected veteran, status as an individual with a disability, or other applicable legally protected characteristics.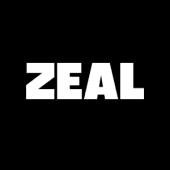 Puzzl