Description
At Pulumi, we're building the Cloud Engineering Platform enabling the future of developer-first infrastructure. We believe that programming the cloud should be just as productive, joyful, and flow-inducing as your local dev loop. We want to make janky internal developer portals and homegrown infrastructure DSLs a thing of the past. Every engineer deserves delightful tools. 
We employ a unique philosophy toward achieving this goal:
We succeed and fail

as a team

An

inclusive environment

bubbles the best ideas to the top

Our customers

sit at the center of every decision

We achieve the best results through

openness and honesty

, even when uncomfortable

Work smart, but

bias for action and results

Our natural curiosity for technology keeps us

always learning
Think big

, dream, and define the future of engineering in the cloud
While Pulumi is headquartered in Seattle, WA., we are dedicated to being a remote-first company. This role will be located remotely in the United States.
Responsibilities:
We're looking for a hands on engineering leader (50% IC, 50% people + project management) for Pulumi's Cloud SaaS offering. Thousands of companies rely on our Cloud Engineering Platform to be productive and ship software to their customers every day. We deliver features that enable enterprises to adopt Pulumi at scale and reimagine the way that developers interact with infrastructure. We believe that internal developer portals can be a joy to use. We ship applications, APIs, and services to make that a reality.
In This Job You Will:
Architect, code, test, and own projects end to end as an IC

Manage a small (2-4 ICs) team of engineers, managing the engineering process, working with product, executives, and engineers to set realistic deadlines, and keep the team on track to meet its deliverables.

Hire, mentor, and develop an engineering team.

Own the roadmap and prioritization of efforts across your team.

Pitch in as an IC on a daily basis: writing code, reviewing code and design proposals, etc.

Collaborate with product, sales, and customers to scope deliverables.

Work cross-functionally with project stakeholders to turn engineering effort into customer value.

Turn strategy and ideas into delivered results.

Own accountability for communication and execution around product delivery goals across teams.

Keep current on the latest software engineering methodologies, choosing what's best to meet Pulumi's product goals.
We're Looking For Someone With:
At least two years of engineering management or lead experience overseeing senior software engineering teams.

A desire to be very hands-on, and comfortable in a deeply technical environment.

Deep understanding of distributed systems, developer tools, and SaaS products.

Superior project management skills, with successful experiences delivering complex engineering projects on time and on budget.

Comfort with building and iterating on both Open Source and Enterprise products.

Comfort with all/some of the following: Amazon Web Services, MySQL, elasticsearch, AI/ML, building robust and resilient systems.

Strong communication skills, both written and verbal.

BS degree in Computer Science or equivalent practical experience.
Compensation:
Base Salary Hiring Range: $180,500 to $227,850

All full time employee offers at Pulumi include base salary, bonus or variable, equity and benefits (details below).
Pulumi Benefits:
Health - We offer competitive medical, dental, vision, and supplemental insurance. It is free for our direct employees to be on our insurance.
Time Off - Unlimited personal time off (PTO) we ask that employees take at least 3 weeks off during the year in addition to the two annual company-wide wellness weeks.

 

Parental Leave - 20 weeks paid parental leave for the birthing parent or primary caregiver, and 16 for non-birthing parent or secondary caregiver.
Remote-First - We are a 100% remote-first company with employees in nearly 20 states, and growing internationally; we encourage asynchronous communication and autonomy. We also provide an annual work from anywhere fund to help cover the employee costs of working remotely.
Professional Development & Growth - We encourage a lifelong learning mindset and every employee is given an annual professional development budget.
Equity - As a small but growing startup, we all act like owners and you will earn equity in the company.
Additional Funds - We offer employees a monthly wellness fund to be spent on anything physical and/or mental wellbeing related. We also provide a quarterly happiness fund to be used toward anything that makes our employees happy!

 
About Pulumi:
Pulumi is reimagining how developers and DevOps teams create and manage cloud software, through a unique combination of developer tools and system innovation. The company leads with an open source platform that embraces real programming languages, tools, and techniques, and offers an innovative SaaS product that helps team collaborate.
Pulumi was founded in 2017 by developer and cloud experts from many corners of our industry to deliver innovative approaches to cloud software development. Since emerging from stealth in mid-2018, we are accelerating our platform momentum and product adoption. The team is built on a culture of openness, diversity, respect, and thinking big.
At Pulumi, we don't just accept difference, we look for it, celebrate it, support it, and thrive on it for the benefit of our employees, our products, and our customers. Pulumi is proud to be an equal opportunity workplace and is committed to equal employment opportunities regardless of race, color, ancestry, religion, sex, national origin, sexual orientation, age, citizenship, marital status, disability, gender identity, or Veteran status. If you have a disability or special need that requires accommodation, please let us know.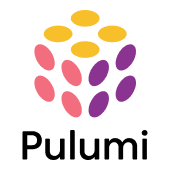 Pulumi
Cloud Computing
Computer
Software
3 appplies
73 views