Description
Ollie was born with the mission of improving the lives of pets and pet parents nationwide. We make human-grade pet food, tailored for each dog's nutritional needs, and deliver directly to our customers' doors. Through Ollie's carefully crafted meals and health services for members, dogs can truly live their healthiest, happiest lives.
As a member of our growing team, you'll take part in a company culture that cares deeply about its work and its team members.
As a 
Software Engineer, Front-End 
at Ollie, you will be working on our internal tooling platform to support our incredible Customer Experience agents, understanding, debugging, & resolving issues on our Next.js ecommerce platform to ensure a smooth customer experience, and develop broad understanding of our platform to help triage & fix issues with it. This position is great for you if you are a curious, collaborative, and open-minded front-end engineer with a strong focus on the user. We are looking for someone who thrives in a small-but-growing team environment and is excited to both teach & learn from teammates. We're hiring a strong, diverse team across a range of skill levels, experiences, & interests to help deliver Ollie to dog bowls everywhere!
For a sneak peak of our culture and interview process, check out our 4.7 out of 5 star rating on 
Glassdoor!
Skills & Experience:
1+ years of professional experience or similar, building applications in a modern Javascript framework (React, Angular, Vue) or building web-based systems, including technologies such as REST APIs and JSON
Working knowledge of Javascript, browsers, and web applications
Keen eye for developing beautiful user experiences
Interest in building accessible applications that work for users of varying abilities Interest in expanding your own knowledge and sharing it with the team Excellent communication & collaboration skills
This is not a checklist, so if you don't have all of these, apply anyway!
Bonus Points:
Dog Owner or Lover
Experience working with Node, express.js, and/or Next.js
Experience developing a design system, in coordination with Design team, using Storybook
Experience with any of the following libraries: react-hook-form, styled-components, swr
Experience working with unit testing in JavaScript
Experience working in e-commerce or similar field
Experience working with a headless CMS
Experience working with Docker and/or AWS
History of maintaining large-scale applications
Open source contributor
Benefits:
Competitive salary and a stake in the company
Sponsored 401k program with employer match up to 4%
Comprehensive health coverage including medical, dental and vision
Unlimited vacation policy that you're encouraged to use
Paid parental leave
1-week paw-ternity leave for new dog parents
Free Ollie subscription
Inspiring pack members!
Our compensation range reflects salaries across several US geographic markets. The base pay for this position ranges from $90,000/year in our lowest geographic market up to $130,000/year in our highest geographic market. Pay is based on a number of factors including market location and may vary depending on job-related knowledge, skills, and experience. Salary is one part of Ollie's holistic total compensation package which also includes equity, health coverage, 401(k), and other benefits.
If you'd like to stand out, tell us in your cover letter why you're interested in joining Ollie and how your skills match the responsibilities detailed in this posting.
Ollie embraces diversity and equal opportunity. We're committed to building a team that represents a variety of backgrounds, perspectives, and skills. Ollie is an equal opportunity employer and does not discriminate on the basis of race, national origin, gender, gender identity, sexual orientation, protected veteran status, disability, age, or other legally protected status. For individuals with disabilities who would like to request an accommodation, please include that in your application.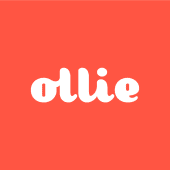 Ollie
E-Commerce
Food and Beverage
Pet
94 appplies
514 views