Description
Mission Summary
Motional is currently seeking a highly skilled Senior Software Engineer to join our Autonomy Research Team, specifically working on integrating a cutting-edge ML planner into our AV Stack. This team is at the forefront of ML planner research and development, and we are excited to continue pushing the boundaries of this technology in the autonomous vehicle industry. As a member of this team, you will play a vital role in helping us achieve our goal of implementing a ML planner into our AV Stack. This is an exciting opportunity to work on a groundbreaking project with a team of experienced professionals in the field. You will have the opportunity to contribute to our nuPlan benchmark and other research initiatives, and be a part of the ongoing advancement of ML planner technology in autonomous vehicles.
What you'll be doing:
Help build a state-of-the-art rapid ML planner deployment pipeline that reduces deployment times from weeks to hours

Design modular and efficient software solutions for rapid prototyping

Interface between cutting-edge research code and product code to integrate ML planner technology into our AV Stack

Work closely with a team of experienced professionals at the forefront of ML planner research and development

Play a vital role in advancing the technology behind autonomous vehicles and contribute to Motional's goal of implementing ML planner technology into our AV Stack
What we're looking for:
Expertise integrating C++ 17 and Python 3 code bases to integrate ML planner technology into our AV Stack

Proficiency with STL, Boost, pybind11, and other relevant software libraries

Competency in common algorithms, data structures, and software design patterns, with the ability to design and implement efficient and scalable software solutions

Familiarity with software development tools such as Git, CMake/Bazel, as well as with debugging and profiling tools

Strong communication and collaboration skills, with the ability to work effectively in a team environment
Bonus points (not required):
Familiarity with machine learning frameworks such as TensorFlow or PyTorch

Familiarity with a subset of CUDA, TensorRT, libtorch and cppyy

Experience with autonomous vehicles or robotics

Experience with technical writing
Why you should join us:
Publications and patents encouraged

Opportunity to contribute across multiple disciplines

Be part of a growing team that interfaces with many branches of the organization

We are a values-led culture, where everyone feels included, recognized and empowered to be themselves and do their best work in the way that suits them

Excellent benefits to include generous medical plans, wellness benefits, unlimited PTO, 401k and equity, to name a few
The Motional Venice office is located just minutes from the beach, boutique shopping, dining and entertainment. We are within walking distance to public transportation. This position can support remote work WITHIN the United States.
The salary range for this role is an estimate based on a wide range of compensation factors including but not limited to specific skills, experience and expertise, role location, certifications, licenses, and business needs. The estimated compensation range listed in this job posting reflects base salary only. This role may include additional forms of compensation such as a bonus or company equity. The recruiter assigned to this role can share more information about the specific compensation and benefit details associated with this role during the hiring process.
Candidates for certain positions are eligible to participate in Motional's benefits program. Motional's benefits include but are not limited to medical, dental, vision, 401k with a company match, health saving accounts, life insurance, pet insurance, and more.
Salary Range
Motional is a driverless technology company making self-driving vehicles a safe, reliable, and accessible reality.
The Motional team is made up of engineers, researchers, innovators, dreamers and doers, who together are creating a first-of-its-kind technology with the potential to transform the way we move. We're behind some of the industry's largest leaps forward, including the first fully-autonomous cross-country drive in the U.S, the launch of the world's first robotaxi pilot, and operation of the world's most-established public robotaxi fleet.
As a leader in an emerging industry that has the promise of creating safer, more reliable and accessible transportation for all, it's imperative we have a diverse workforce, create an inclusive culture, and understand the communities we operate in around the world.
Diversity, Equity and Inclusion is fundamental to Motional's success. That's why we've established a team to ensure DEI is at the forefront of the candidate and employee experience, beginning with the hiring process and continuing throughout your career. We also partner with organizations like the National Society of Black Engineers, the Society of Hispanic Professional Engineers, and the Society of Women Engineers to ensure our DEI work is informed by the latest thinking and approaches.
Strategically formed by Hyundai Motor Group and Aptiv, Motional is fundamentally changing how people move through their lives. Headquartered in Boston, Motional has operations in the U.S and Asia. For more information, visit www.Motional.com and follow us on Twitter, LinkedIn, Facebook, Instagram and YouTube.
Motional AD Inc. is an EOE. We celebrate diversity and are committed to creating an inclusive environment for all employees. To comply with Federal Law, we participate in E-Verify. All newly-hired employees are queried through this electronic system established by the DHS and the SSA to verify their identity and employment eligibility.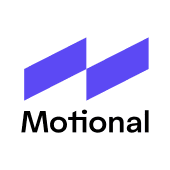 Motional
Autonomous Vehicles
Software
0 appplies
61 views