Description
Moov is the payments processor devoted to delighting users. We help software companies add money movement to their products, letting the end-user drive how they pay and get paid.
As a member of the Moov team, you will build new and improve existing banking and payment experiences that customers depend on every day. We're looking for someone who combines technical breadth and depth with strong technical leadership to successfully define and deliver a modern web-scale architecture. In particular, we're looking for an experienced leader with a deep understanding of payments, card acquiring and issuing, and cloud-native distributed computing.
The Principal Engineer will be a thought leader and subject matter expert within engineering, working alongside other technical and product leaders.
You will:
Lead the technology direction of the Moov Financial Platform

Define, communicate, and drive Moov's technical vision, winning support from engineering and aligning with product and business strategy

Own the long-term architecture and align it with overall business and product strategy; communicate architectural decisions, plans, goals, and strategies

Be a pivotal contributor to ensure what we build is highly secure, available, resilient, and web-scale

Speak, write, evangelize, and communicate about Moov's technical capabilities at conferences and other events

Collaborate with fellow engineers, product managers, business development, and company leadership to solve problems and plan for the future

Other duties as assigned by Moov and/or your manager
You have:
12 + years of experience building distributed systems and applications, including design, development, security, and scale

Experience delivering greenfield payments systems and other money movement rails such as Card Acquiring or Issuing, ACH, RTP, and Wire.

Experience in regulated environments such as PCI-DSS

Track record for driving software velocity and quality improvements across Moov's engineering using Lean and DevOps approaches

A strong focus on outcomes. Moov is about shipping. This means we focus on getting things done, not on building the perfect system. We strongly believe in rapid iteration

Passion for writing great code, and ultimately deploy successful patterns and systems that can be used for a broad set of business use cases across Moov

Critical contributor in architecting, developing, and bringing a software platform from idea to market, preferably for a startup

Demonstrated ability to deliver high-quality SaaS platforms that serve millions of people

Strong customer focus coupled with excellent communication and relationship-building skills. Ability to frame a problem clearly and meaningfully

Strong advocacy of automated testing, continuous delivery, and software quality across the software development life-cycle

Proven track record in successfully delivering large scale enterprise-wide solutions, from design to development to testing to production

Experience with service-based architectures, Domain-Driven Design, and reactive/event-driven systems

The ability to design simple and straightforward solutions to complex problems

BS/MS in Computer Science or related area or equivalent experience + advance degree preferred

Other duties as assigned by Moov and/or your manager
Bonus if you also have:
An understanding of Single Message and Dual Message formats

Experience with ISO8583

Practical experience in clearing, settlement, and funding

Experience with chargeback and risk monitoring systems

Extensive knowledge of OSS tools and active participation in the OSS community

Experience with mid-size organizations and startups

A solid understanding of ISO 20022
Our company:
Moov is a 100% remote company with people from more than 25 states. We're backed by a16z and other respected investors. We won Visa's global Everywhere Initiative and our community of builders grows larger every day. We're committed to building a team that represents a variety of backgrounds, perspectives, and skills and we embrace diversity, creativity, and equal opportunity.
Our people:
Our customers come from all walks of life and so do we. We hire great people from a variety of backgrounds, not just because it's the right thing to do, but because it makes our company stronger.
We have mountain bikers, skiers/boarders, runners, video gamers, musicians, movie buffs, weight lifters, and about every other type of person in between. We enjoy solving problems and tackling challenges with creativity. If we don't know the answer, we revel in the hunt to find it. We like helping people and choose to give first. We're patient, open, and honest. If you share our values and enthusiasm for making the complex simple and delightful, you'll find a home at Moov.
Benefits include:
Competitive base salary + employee stock options w/early exercise opportunity
100% remote. We make remote-work work.
We match what you contribute to your 401(k) up to 5% of your salary
Generous parental leave
Medical Ins: Health Savings Account (HSA) option w/employer contribution
EAP and other wellness resources
Unlimited PTO+ generous paid holiday schedule
Learning stipend and a culture that encourages and promotes professional growth and development
Home office stipend
Culture of people helping people who give first, celebrate wins together and embrace autonomy, transparency, and trust
The opportunity to join an experienced and ambitious team passionate about solving customers' needs and who love what they do
Partner with a community of 3000+ developers around the world, helping them focus on possibilities vs payments
Employee referral incentive
Salary range: $215k to $230k based on experience, geography, and other key factors
Advice:
If you are nervous about not having the right qualifications, apply anyway! We hire people, not job roles. We look for talent that will help us push boundaries, experiment, and bring in new ideas. That means caring more about qualities than qualifications.
One more thing:
Don't go iron your clothes for your interview (do people still own irons?). We're all pretty casual here, so you can wear whatever you are most comfortable in.
Okay—last thing:
When you meet with us, have some concrete, tangible examples of when you've added value, improved something, created something, or done some fantastic, customer-centric work. We also want to learn about you as a person. If you want to know what it's like working at Moov, check out stories from our employees.
PS:
Share our job roles with others! Wouldn't it be nice to make new friends and bring over old friends? We think so.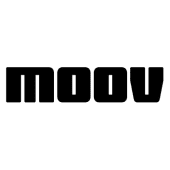 Moov
Finance
Financial Services
FinTech
Software
1 appplies
661 views