Description
Are you ready to rise to the challenge of climate change with the team that will deliver? Form Energy is a U.S. technology and manufacturing company that is developing and commercializing pioneering energy storage technologies to enable the electric grid to run on 100% renewable energy, every day of the year.
Supported by leading investors such as Breakthrough Energy Ventures, ArcelorMittal, TPG Rise, MIT's The Engine, and others, we share a common belief that low-cost, multi-day energy storage is the key to enable tomorrow's zero carbon electric grid. Driven by our core values of humanity, excellence, and creativity, we are deeply motivated and inspired to create a better world. We need talented, hardworking individuals who share our goal of tackling the challenge of climate change. Do you want to work with us today to build a better tomorrow?
Role Description
We're looking for a Staff Manufacturing Engineer to join our Advanced Manufacturing team. This team is responsible for developing and validating processes used for manufacturing electrodes to be deployed in Form Energy's commercial product. This work will start with translating electrode design to the manufacturing floor, working to improve our existing manufacturing techniques. You will focus on the development and automation of Form's cathode fabrication process. Bridging the gap between manual assembly, and automated production, delivering high-budget, high-volume processes at new production facilities. You will bring a wealth of manufacturing experience and creativity used to develop world class, fully automated processes.
Reporting into the Staff Process Development Engineer, you'll work closely with equipment design engineers, cell design engineers, material scientists, supply chain, operations, facilities, and outside consultants.  As we design, build, and ramp up equipment operations, expect to become deeply entrenched in the intersection space of equipment design, process engineering, and manufacturing as the team works toward a common goal of manufacturing high performance electrodes in high volume. This role provides an exciting opportunity to develop novel manufacturing techniques while doing your part to help combat climate change!
This opportunity is based out of Form Energy's Eighty Four, PA location (Greater Pittsburgh Area).
What You'll Do:
Develop automated manufacturing techniques for electrode assembly, including pressing, welding, and sizing operations.   
Apply industry standards and best practices to deliver world class, safe, efficient processes.
Partner with process engineering and R&D to validate new production methods.
Work with equipment engineering and our supply chain team to identify and partner with OEMs.
Perform DFM (design for manufacture) assessments in partnership with Form's battery component design teams.
Train technicians, process engineers, and scientists on new manufacturing equipment and processes.
Be a champion for safety in the development of new equipment and processes.
What You'll Bring:
BS required in Engineering or related field.
7+ years of experience in a pilot line or manufacturing NPI environment.
Experience in the design and operation of automated equipment for handling and assembling complex parts.
Experience in a variety of assembly and fabrication techniques, including spot welding, adhesives, and epoxies. 
Experience designing hydraulic and pneumatic systems.
Experience leading project execution in cross functional teams.
Familiarity with Industrial robotics and automation.
#LI-AS1
Besides joining a community of people working to make the world better, Form Energy commits to you equitable compensation, stock options, and offers a generous benefits package to make sure you have the support you need to thrive.
We cover 100% of employee premiums and 80% of dependent premiums for medical, dental, and vision insurance for full time employees. We offer a flexible Paid Time Off program and every employee, regardless of gender identity or expression, is eligible for 12 weeks of paid parental bonding leave. A full listing of our benefits is available on our
careers page
. 
At Form Energy, we are working toward a 100% renewable energy future for everyone in the world. We are committed to creating an inclusive environment for all our employees and are seeking to build a team that reflects the diversity of the people we hope to serve with our revolutionary products. Form Energy is proud to be an equal opportunity employer.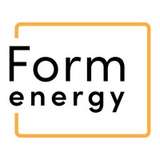 Form Energy
Battery
Energy
Energy Storage
Environmental Engineering
Renewable Energy
0 appplies
125 views