Description
Are you ready to rise to the challenge of climate change with the team that will deliver? Form Energy is a U.S. technology and manufacturing company that is developing and commercializing pioneering energy storage technologies to enable the electric grid to run on 100% renewable energy, every day of the year.
Supported by leading investors such as Breakthrough Energy Ventures, ArcelorMittal, TPG Rise, MIT's The Engine, and others, we share a common belief that low-cost, multi-day energy storage is the key to enable tomorrow's zero carbon electric grid. Driven by our core values of humanity, excellence, and creativity, we are deeply motivated and inspired to create a better world. We need talented, hardworking individuals who share our goal of tackling the challenge of climate change. Do you want to work with us today to build a better tomorrow?
Role Description
We are looking for an exceptional manufacturing engineer to lead our cathode high-volume manufacturing concept, design, build and launch. This is an exciting opportunity to develop and deploy the core of our battery manufacturing technology, including automated processes for extruding, calendaring, drying, laminating and assembling films. 
This opportunity is based out of Form Energy's location in the Greater Pittsburgh Area.
What You'll Do:
Responsible for cathode high volume manufacturing lines concept, design, requirements, related analytics/sizing/balancing/timing charts, material flow, strategic vendors selection and management, high-volume equipment design/selection, automation level, lines integration to the facility, install, commissioning, rate demonstration and handover the operations teams (your customer). 
Own line requirements including layout, work content, rates, headcount, Capex, etc.
Oversee detailed design of new manufacturing equipment, develop equipment specifications, identify vendors and manage RFQ process. 
Lead and manage project scope from concept through production launch.
Own the handover process to sustaining teams. 
Partner with the product design teams to incorporate the latest process/product development, advocate for the simplest, most reliable processes and iterate on the DFM consideration to enable high volume and cost targets.
Drive PFMEA and OEE considerations as far upstream in product development as possible.
Think of the factory as a fully integrated product. Best part/process is no part/process.
Densify, reduce non-value add and achieve significant improvements from one iteration to the next.
What You'll Bring:
Passion and expertise in high-volume manufacturing line design, install and launch.
Expertise in some of the following automated processes: extruding, calendering, "roll to roll" web handling, drying, solvent recovery, laminating and assembling films. 
Experience in driving down manufacturing costs while maintaining or improving product quality for complex electromechanical assemblies.
Energized by working in a demanding and fast-paced environment to achieve important and challenging goals.
Experience managing conflicting objectives, compressed timelines, and highly-automated processes.
Outstanding organizational, communication, leadership, interpersonal and decision-making abilities.
Bachelor's degree in engineering, physics or equivalent.
Besides joining a community of people working to make the world better, Form Energy commits to you equitable compensation, stock options, and offers a generous benefits package to make sure you have the support you need to thrive.
We cover 100% of employee premiums and 80% of dependent premiums for medical, dental, and vision insurance for full time employees. We offer a flexible Paid Time Off program and every employee, regardless of gender identity or expression, is eligible for 12 weeks of paid parental bonding leave. A full listing of our benefits is available on our
careers page
. 
At Form Energy, we are working toward a 100% renewable energy future for everyone in the world. We are committed to creating an inclusive environment for all our employees and are seeking to build a team that reflects the diversity of the people we hope to serve with our revolutionary products. Form Energy is proud to be an equal opportunity employer.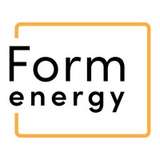 Form Energy
Battery
Energy
Energy Storage
Environmental Engineering
Renewable Energy
0 appplies
234 views