Description
Are you ready to rise to the challenge of climate change with the team that will deliver? Form Energy is a U.S. technology and manufacturing company that is developing and commercializing pioneering energy storage technologies to enable the electric grid to run on 100% renewable energy, every day of the year.
Supported by leading investors such as Breakthrough Energy Ventures, ArcelorMittal, TPG Rise, MIT's The Engine, and others, we share a common belief that low-cost, multi-day energy storage is the key to enable tomorrow's zero carbon electric grid. Driven by our core values of humanity, excellence, and creativity, we are deeply motivated and inspired to create a better world. We need talented, hardworking individuals who share our goal of tackling the challenge of climate change. Do you want to work with us today to build a better tomorrow?
Role Description
We are looking for an experienced Embedded Software Engineer to develop the firmware that will monitor and control our novel multi-day storage battery modules. This individual is expected to bring deep experience in embedded software development and low-level programming. Our battery management systems run on ARM class hardware.
Collaboration with other engineers on the Systems team will be a standard part of the workflow, as this role resides at the exciting cross-section of power conversion, battery performance, and control systems.
What You'll Do:
Develop microcontroller firmware for embedded system, sensors, and power flow control circuitry as part of a complete BMS
Collaborate with hardware and controls engineers to architect the control topology, peripheral section, HSI, sensor properties, and algorithms
Derive software specifications based on product requirements
Establish a BMS control software topology that includes security, functional safety, memory protection, and performance
Define software development, debugging, validation, release, and quality processes
Synthesize outputs from battery test data and models to implement algorithms for system performance and lifetime
Work with an interdisciplinary group of engineers on the Systems Team to define concepts, downselect designs, and optimize a new groundbreaking technology
What You'll Bring:
Excitement and willingness to learn as a member of a rapidly growing multi-disciplinary engineering team
Minimum 5+ years of experience in software development for embedded systems; direct experience working on BMS firmware is a plus
Extensive experience using C/C++ for embedded systems in real-time control applications
Familiarity with software compliance standards such as MISRA, ISO 26262, CMMI, ASPICE, or UL 1998
Deep knowledge of device control and communication protocols such as Modbus, CANbus, and UART
Experience with defining and or assessing software reliability, failure modes, and fault reactions
Ability to work on embedded controller boards and RTOS
The salary range for this role is $164,410-$202,785. The range listed is what we reasonably expect to pay for this role at the time of this posting. We may ultimately pay more or less than the posted range and may be modified in the future. Actual compensation packages are based on several factors that are unique to each candidate, including but not limited to skill set, depth of experience, certifications, and specific work location. This may be different in other locations due to differences in the cost of labor.
Besides joining a community of people working to make the world better, Form Energy commits to you equitable compensation, stock options, and offers a generous benefits package to make sure you have the support you need to thrive.
We cover 100% of employee premiums and 80% of dependent premiums for medical, dental, and vision insurance for full time employees. We offer a flexible Paid Time Off program and every employee, regardless of gender identity or expression, is eligible for 12 weeks of paid parental bonding leave. A full listing of our benefits is available on our
careers page
. 
At Form Energy, we are working toward a 100% renewable energy future for everyone in the world. We are committed to creating an inclusive environment for all our employees and are seeking to build a team that reflects the diversity of the people we hope to serve with our revolutionary products. Form Energy is proud to be an equal opportunity employer.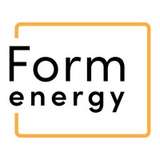 Form Energy
Battery
Energy
Energy Storage
Environmental Engineering
Renewable Energy
0 appplies
93 views