Description
Are you ready to rise to the challenge of climate change with the team that will deliver? Form Energy is a U.S. technology and manufacturing company that is developing and commercializing pioneering energy storage technologies to enable the electric grid to run on 100% renewable energy, every day of the year.
Supported by leading investors such as Breakthrough Energy Ventures, ArcelorMittal, TPG Rise, MIT's The Engine, and others, we share a common belief that low-cost, multi-day energy storage is the key to enable tomorrow's zero carbon electric grid. Driven by our core values of humanity, excellence, and creativity, we are deeply motivated and inspired to create a better world. We need talented, hardworking individuals who share our goal of tackling the challenge of climate change. Do you want to work with us today to build a better tomorrow?
Role Description
We're looking for a Senior Manufacturing Engineer that is looking to amplify their impact and help build a new manufacturing organization. This person will be responsible for engineering all functional aspects of our assembly manufacturing ecosystem from floor to ceiling. This work starts with a two-way conversation with our design engineers to both inform their designs (DFM) and get a jump start on developing the equipment and processes. Work will range from participating in hands-on trial builds at a prototype level up to delivering outsourced, high-budget, high-volume solutions at new production facilities. You'll work with design engineers, supply chain, operations, safety, facilities, assemblers, and a host of other teams and outside suppliers and consultants. As we manufacture our products for the first time, expect a slew of surprise issues that will need rapid root cause investigation and resolution demanding critical thinking, persistence, and collaboration. It's going to be an exciting ride building something from nothing, and we hope you join us making giant batteries to tackle climate change!
What You'll Do:
Own the development, build or purchase, and deployment of manufacturing workstations and equipment ranging from initial manual benchtop stations to fully automated and integrated systems
Provide Design for Manufacturability feedback to the engineering team, working closely with them throughout the development process
Design and document robust processes capable of a high level of safety, uptime, and quality
Assist in the debug and resolution of time-sensitive issues with manufacturing equipment and processes as they arise
Train hands-on labor on new manufacturing equipment and processes
Work with a diversity of teams inside and outside the company to achieve overall manufacturing success
What You'll Bring:
5+ years of equipment or manufacturing engineering experience, ideally in an electro-mechanical assembly environment
Experience purchasing and setting up automated manufacturing equipment
Experience writing Standard Operating Procedures and other manufacturing documentation
Experience working with design engineers and providing DFM feedback
Readiness to perform hands-on build and test of workstations and equipment
Excellent spoken and written communication skills and readiness to interact with a wide range of other professionals and suppliers
BS in Engineering; More advanced degrees are a plus but not required
Experience with plastic and metal welding, automated assembly, inspection, and test, human-assist automation for assembly and test, programming automation equipment, and/or MES systems is a plus but not required
Besides joining a community of people working to make the world better, Form Energy commits to you equitable compensation, stock options, and offers a generous benefits package to make sure you have the support you need to thrive.
We cover 100% of employee premiums and 80% of dependent premiums for medical, dental, and vision insurance for full time employees. We offer a flexible Paid Time Off program and every employee, regardless of gender identity or expression, is eligible for 12 weeks of paid parental bonding leave. A full listing of our benefits is available on our
careers page
. 
At Form Energy, we are working toward a 100% renewable energy future for everyone in the world. We are committed to creating an inclusive environment for all our employees and are seeking to build a team that reflects the diversity of the people we hope to serve with our revolutionary products. Form Energy is proud to be an equal opportunity employer.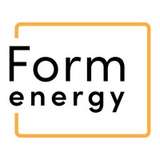 Form Energy
Battery
Energy
Energy Storage
Environmental Engineering
Renewable Energy
0 appplies
174 views