Description
Are you ready to rise to the challenge of climate change with the team that will deliver? Form Energy is a U.S. technology and manufacturing company that is developing and commercializing pioneering energy storage technologies to enable the electric grid to run on 100% renewable energy, every day of the year.
Supported by leading investors such as Breakthrough Energy Ventures, ArcelorMittal, TPG Rise, MIT's The Engine, and others, we share a common belief that low-cost, multi-day energy storage is the key to enable tomorrow's zero carbon electric grid. Driven by our core values of humanity, excellence, and creativity, we are deeply motivated and inspired to create a better world. We need talented, hardworking individuals who share our goal of tackling the challenge of climate change. Do you want to work with us today to build a better tomorrow?
Role Description
We are looking for an EHS Specialist to further develop and manage the daily functions of our EHS programs at the Berkeley, CA, facility. This person will be responsible for working with our EHS Site Lead to ensure our team is operating with best safety practices and leading efforts to improve the culture of safety in the workplace. The ideal candidate will have the aptitude and core values to proactively mitigate new hazards and roll up their sleeves to respond quickly to critical situations most effectively and efficiently.
This person will work closely with all members of the Form Energy team to provide an excellent and safe workplace. This is an exciting opportunity to shape and be part of the growth of a fast-moving technology start-up with breakthrough technology and an incredible mission.
What You'll Do:
Develop, implement, and manage environmental health and safety programs, including Electrical Safety, Hazardous Energy, Lockout Tag-Out, Risk Assessment, and Fall Protection
Familiarity with chemical inventory, hazardous material management, and disposal 
Ensure day-to-day compliance with EHS policies and regulations
Manage hazardous waste inspections and environmental permits
Perform weekly safety inspections of the facility and critical equipment
Conduct task hazard assessments and job safety analyses of new processes & materials
Manage safety training schedules for various teams and departments
Deliver and document initial and ongoing EHS training
Work closely with departments to ensure EHS requirements are being addressed and met 
What You'll Bring:
4+ years experience in developing environmental health and safety programs
Direct experience with navigating regulatory requirements as they relate to Large Quantity Generator status, satellite and 90-day accumulation areas, and disposal of wastes
Extensive knowledge of chemical interactions and hazards and wet lab safety
Familiar with CalOSHA for General Industry requirements
OSHA10 / OSHA30, HAZWOPER  & DOT/IATA certifications 
ASP/CSP/CHMM or similar certifications preferred
RCRA/Title 22 training preferred 
Advanced degree in Safety, Chemistry, or Engineering preferred
#LI-CB1
The salary range for this role is $124,250-$153,270. The range listed is what we reasonably expect to pay for this role at the time of this posting. We may ultimately pay more or less than the posted range and may be modified in the future. Actual compensation packages are based on several factors that are unique to each candidate, including but not limited to skill set, depth of experience, certifications, and specific work location. This may be different in other locations due to differences in the cost of labor.
Besides joining a community of people working to make the world better, Form Energy commits to you equitable compensation, stock options, and offers a generous benefits package to make sure you have the support you need to thrive.
We cover 100% of employee premiums and 80% of dependent premiums for medical, dental, and vision insurance for full time employees. We offer a flexible Paid Time Off program and every employee, regardless of gender identity or expression, is eligible for 12 weeks of paid parental bonding leave. A full listing of our benefits is available on our
careers page
. 
At Form Energy, we are working toward a 100% renewable energy future for everyone in the world. We are committed to creating an inclusive environment for all our employees and are seeking to build a team that reflects the diversity of the people we hope to serve with our revolutionary products. Form Energy is proud to be an equal opportunity employer.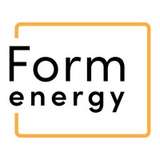 Form Energy
Battery
Energy
Energy Storage
Environmental Engineering
Renewable Energy
0 appplies
86 views