Description
Are you ready to rise to the challenge of climate change with the team that will deliver? Form Energy is a U.S. technology and manufacturing company that is developing and commercializing pioneering energy storage technologies to enable the electric grid to run on 100% renewable energy, every day of the year.
Supported by leading investors such as Breakthrough Energy Ventures, ArcelorMittal, TPG Rise, MIT's The Engine, and others, we share a common belief that low-cost, multi-day energy storage is the key to enable tomorrow's zero carbon electric grid. Driven by our core values of humanity, excellence, and creativity, we are deeply motivated and inspired to create a better world. We need talented, hardworking individuals who share our goal of tackling the challenge of climate change. Do you want to work with us today to build a better tomorrow?
Role Description
We are looking for an experienced individual in the test and development area to help us develop our core technology by joining our growing infrastructure-test team. You will be responsible for leading electrical system design for battery test infrastructure, developing test automation, as well as resolving electrical component related issues during the battery testing. You will work closely with the technology development and technical operations teams to set up battery test stands, facilitate battery testing, and contribute to test operations scale up efforts - making a direct impact on our mission towards enabling a 100% renewable grid.
What You'll Do:
Develop a robust safety interlock electrical system design at cell and module level 
Design, build and qualify new components as per the electrical requirements
Develop solutions for auxiliary/safety system operation, system coordination, and communication interfaces 
Aid in identification and implementation of  design or process improvements to ensure safety, quality, consistency, and efficiency
Produce engineering documents such as SOPs, schematics and design justifications and maintain documentation for electrical & software test setups
Troubleshoot test stand related issues using RCA techniques and document the findings
What You'll Bring:
3+ years experience writing PLC test scripts using complex iterative logic, familiarity with UL standards a plus
Ability to read PCB schematics for debugging of test equipment 
Experience with procuring & maintaining electrical/automation parts inventory
Familiarity with testing script and execution tools such as LabView as well as with scripting languages such as Python 
Prototyping, soldering, and other relevant hands-on experience
Basic laboratory safety knowledge and excellent workplace organization habits
Positive attitude and appetite to learn and grow within our organization
High attention to detail, excellent organizational and communication skills
Willingness to share ideas to contribute to organizational and technical problem solving
Bachelor's degree in Electrical/Electronics, Mechanical Engineering or Computer Science
The salary range for this role is $142,970-$176,255. The range listed is what we reasonably expect to pay for this role at the time of this posting. We may ultimately pay more or less than the posted range and may be modified in the future. Actual compensation packages are based on several factors that are unique to each candidate, including but not limited to skill set, depth of experience, certifications, and specific work location. This may be different in other locations due to differences in the cost of labor.
Besides joining a community of people working to make the world better, Form Energy commits to you equitable compensation, stock options, and offers a generous benefits package to make sure you have the support you need to thrive.
We cover 100% of employee premiums and 80% of dependent premiums for medical, dental, and vision insurance for full time employees. We offer a flexible Paid Time Off program and every employee, regardless of gender identity or expression, is eligible for 12 weeks of paid parental bonding leave. A full listing of our benefits is available on our
careers page
. 
At Form Energy, we are working toward a 100% renewable energy future for everyone in the world. We are committed to creating an inclusive environment for all our employees and are seeking to build a team that reflects the diversity of the people we hope to serve with our revolutionary products. Form Energy is proud to be an equal opportunity employer.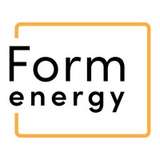 Form Energy
Battery
Energy
Energy Storage
Environmental Engineering
Renewable Energy
1 appplies
192 views