Description
Our Mission
At Federated Wireless we are connecting you to the future of wireless technology.
As the market leader of 5G Private Wireless solutions, we envision a world where wireless connectivity is simple, fast and powerful – private, secure networks that enable amazing new technology with incredible economics for businesses, communities and people around the world. A wireless solution that is dedicated to the mission and people who depend on agility, innovation and speed to meet their goals.
These aren't easy goals to accomplish – but we're not here for easy. We're here for better. We are a company built on the foundation of challenging and disrupting the way things are done, and we're looking for innovators who are as committed to shaping the future of private wireless connectivity as we are.
You will have the opportunity to independently design, develop, deploy and maintain projects in all phases of the agile development and deployment life cycle. You will design components or sub-components and then follow through with the coding, testing, and integration of all components. Self-motivation, teamwork, and experience working in a fast-paced agile environment are a must to succeed and grow.
Your Impact
Designing of major software components, systems, and features to improve the availability, scalability, latency, and efficiency of Federated Wireless Services.
Perform sustainable incident response, postmortems, and production improvements that result in direct business opportunities.
Guide other team members on managing availability and performance of mission-critical services, building automation to prevent problem recurrence, and building automated responses for non-exceptional service conditions.
Improve product reliability by developing continuous tracing and monitoring pipelines.
Build Infrastructure and Synthetic monitoring along with system-wide observability.
Manage individual project priorities, deadlines, and deliverables.
Your Experience
BS or MS in Software Engineering, Computer Science, Computer Engineering, or the equivalent
3+ years of experience in Software Development, DevOps, or SRE-related Engineering practices.
Understanding of algorithms and data structures and/or Unix/Linux systems internals (e.g. filesystems, system calls), and administration.
Strong understanding of networking protocols (TCP/IP, UDP, etc.)
Hands-on experience with Cloud platforms (AWS, GCP, AZURE, VMWare, etc.).
Hands-on experience working with Prometheus, Grafana, Loki, ELK, Fluentbit, etc.
Experience in developing monitoring systems to identify and fix security loopholes in the application network.
Experience in programming in Golang or Python.
Experience with Agile development and CI/CD practices.
Excellent oral and written communication skills.
Our Commitment
We're trailblazers that dream big, take risks, and drive innovation. Our collaborative team spirit enables the best and brightest minds to align on common goals. We will stand behind you to enable your success and growth.
Location: Arlington, VA or Boston, MA
Travel: Minimun
Federated Wireless is committed to providing equal opportunity for all employees and applicants without regard to race, color, religion, sex, sexual preference/orientation, gender identity or expression, age, marital status, national origin, physical or mental disability, veteran status, or any other protected classification under applicable law.
Because Federated Wireless is a federal contractor, employment is contingent upon showing proof that you are fully vaccinated against COVID-19 (or receiving an exemption from the vaccine mandate due to a qualifying medical disability or sincerely held religious belief).
For more information about Federated Wireless, please visit our website at www.federatedwireless.com or LinkedIn at https://www.linkedin.com/company/federated-wireless/.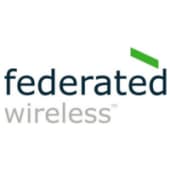 Federated Wireless
Cloud Computing
Infrastructure
Software
Wireless