Description
Drop
is a rewards platform on a mission to inspire people to live their optimal lives by empowering them financially. Through our personalized platform, Drop intelligently surfaces the right brands, at the right time, to make members' everyday better than it was before. Powered by machine learning, Drop matches consumers with over 500+ partner brands to satisfy two main goals: to earn points from their purchases and redeem them for instant rewards.
Headquartered in Toronto, Drop is backed by world-class investors including NEA, HOF, Royal Bank of Canada, Sierra Ventures, and White Star Capital. 
To learn more, visit: 
www.joindrop.com
, or follow us at @joindrop on Instagram and Twitter.
Data Engineering at Drop
Data Engineering is at the very core of how Drop's business works. Our mission is to make data readily and easily accessible to inform decision-making across all functions at the company. We enable this by designing and building reliable, scalable and maintainable data systems, such as our Data Lake, Data Warehouse and all the different pipelines used to transform or move data from one store to another. We process hundreds of millions of financial transactions daily, and the infrastructure we build supports both our B2C and B2B products. At Drop we are taking the next step in evolving our data engineering practice by introducing the role of the analytics engineer. 
As a Senior Data Engineer you will
Be the expert on our data warehouse and the systems behind it.
Own all the aspects of the data warehouse pipelines, ensuring availability, quality and access to the underlying data.
Partner with stakeholders to identify the analytics needs of each team, finding gaps in our data and infrastructure, and working closely with the data platform engineers to address them.
Build testing and monitoring systems that will ensure data quality.
Build documentation around these data assets to ensure accessibility to all of our stakeholders.
Implement access governance of production data systems to ensure compliance with our privacy and security policies.
What you bring to the table
You have 4+ years of experience designing and building reliable, scalable and maintainable data systems.
Expert in SQL, able to write structured and efficient queries in large data sets.
You have used a transformation framework, like dbt, to integrate complex data across different systems.
Experience and strong knowledge of data warehousing concepts, database table design and analytics platforms.
You have experience building data pipelines and ETL flows using Python and an orchestrator like Airflow or Luigi.
You have a strong product mindset. You advocate for users when collaborating with stakeholders from other areas, but can make tradeoffs to account for business priorities.
You are resourceful and have a strong sense of ownership over your work.
You design and write testable and maintainable code to produce quality systems using software engineering best practices.
Bonus points if
You've worked with dbt.
You have experience tuning Redshift clusters.
You have experience designing data stores to power BI platforms (for example, Looker).
You've built financial, loyalty, or rewards systems.
You're passionate about building the next generation rewards product.
You thrive in a fast-paced environment; startup experience is not a strict requirement but a bonus. Drop welcomes people from all work backgrounds and recognizes the value of diversity.
Benefits
Lifestyle Spending Accounts and Health Spending Accounts + drug, dental, travel, and group insurance coverage
Flexible vacation + a work-anywhere-in-the-world program
Parental leave benefits
Stock options
Don't have Drop yet?
Check us out in the Google Play or App store
Follow the Link below and use Code: "Candidates" to get a 5k welcome bonus on us! Happy saving Friends!
At Drop, we're committed to providing an enjoyable and meaningful environment for every member of our team. We operate under a flat structure with minimal hierarchy where everyone's opinion is valued equally. We are looking for team members with an entrepreneurial mindset who will thrive in a fast-paced and rewarding environment.
Drop Technologies, Inc. is proud to be a diverse and equal opportunity employer and as such does not discriminate on the basis of race, colour, religion, sex, national origins, age, sexual orientation, disability or any other characteristic protected by applicable laws. Selection decisions are solely based on job-related factors.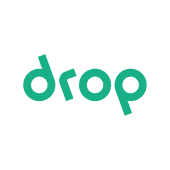 Drop
Consumer Research
Digital Marketing
E-Commerce
Loyalty Programs
Mobile Apps
Social Media Marketing