Description
We all depend on healthcare throughout our lifetimes, for ourselves, and our families and friends, but it is notoriously difficult to navigate and understand. As an industry that comprises 20% of the US economy we think healthcare should work better for all of us. At Collective Health we believe it's time for a new day in healthcare where as members we are informed and empowered to make the right care choices when the decisions are urgent and critical.
Data Reliability Engineering at Collective Health is a discipline combining software, data and systems engineering skills. We apply modern data platform infrastructure, systems, architecture, and development practices to give our customers a more reliable, scalable and secure healthcare data management experience. Data Reliability Engineers (DRE) will keep database systems that support all user-facing services running smoothly. DREs are a blend of database engineering and administration gearheads and software developers that apply sound engineering principles, operational discipline and mature software development and automation, specializing in databases (PostgreSQL in particular). In that capacity, DREs are peers to SREs and bring database expertise to the SRE and Infrastructure teams and our engineering teams.
Partnering with engineering teams, Data Reliability Engineers build on public cloud services to deliver a comprehensive platform that enables our developers to deliver high-quality, impactful, scalable, and reliable services. As a broader group of Site Reliability Engineers including those focused on infrastructure and platform, we collaborate and identify themes and solutions to benefit Collective Health at large, contribute to regular knowledge sharing activities and retrospectives, and support one another to gain knowledge, remove barriers, and grow as individuals and a team.
Together, we're building the next generation healthcare platform, and proud to be on the leading edge of this important mission.
Responsibilities
On any given day you may need to...
Work on database reliability and performance aspects from within the SRE team and work on solutions with the product engineering teams.
Analyze solutions and implement best practices for our main PostgreSQL database cluster and its components.
Work on Presto, Looker, Spark, Kafka, and Airflow
Work on observability of relevant database metrics and make sure we reach our database objectives.
Work with peer SREs to roll out changes to our production environment and help reduce database-related production incidents.
On Call support on rotation with the team.
Provide database expertise to engineering teams (for example through reviews of database migrations, queries and performance optimizations).
Work on automation of database infrastructure and help engineering succeed by providing self-service tools.
Plan the growth and manage the capacity of CollectiveHealth's database infrastructure.
Develop core database infrastructure pieces that allow Collective Health to increase to assist hundreds of thousands of concurrent users.
Support and debug database production issues across services and levels of the stack.
Monitor and alert alert on symptoms and SLOs, and not on outages.
Pay Transparency Statement
This job can be performed in a location where we have an office: San Mateo, CA, Chicago, IL, or Lehi, UT, or hired for remote work in the following states: CA, CO, CT, FL, GA, IL, MA, MI, MN, NJ, NY, NC, OH, OR, TX, UT, or WA. The actual pay rate offered within the range will depend on factors including geographic location, qualifications, experience, and internal equity.
In addition to the salary, you will be eligible for stock options and benefits like health insurance, 401k, and paid time off. Learn more about our benefits at https://jobs.collectivehealth.com/#benefits. #LI-Remote
About Collective Health
Founded in 2013, Collective Health's ecosystem of innovative partners across care and benefits delivery, and powerful and flexible technology better enable employees and their families to understand, navigate, and pay for healthcare. By reducing the administrative lift of delivering health benefits, providing an intuitive member experience, and helping improve health outcomes, the company guides employees toward healthier lives and companies toward healthier bottom lines. Collective Health is headquartered in San Mateo, CA with locations in Chicago, IL, and Lehi, UT. For more, please visit collectivehealth.com.
We are an equal opportunity employer and value diversity at our company. We do not discriminate on the basis of race, religion, color, national origin, gender, sexual orientation, age, marital status, veteran status, or disability status. Collective Health is committed to providing support to candidates who require reasonable accommodation during the interview process. If you need assistance, please contact recruitingaccommodations@collectivehealth.com.
Privacy Notice
For more information about why we need your data and how we use it, please see our privacy policy: https://collectivehealth.com/privacy-policy/.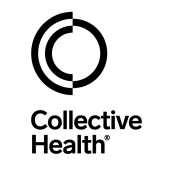 Collective Health
Health Care
Health Insurance
InsurTech
2 appplies
145 views