Description
We are: Accelerators of innovation. Enablers of collaboration. Protectors of ideas.
Code42 speeds the time to detect and respond to Insider Risks by delivering a fast, simple path to data loss detection, investigation and response. With our product, Incydr™, security teams easily protect corporate data and reduce insider risk while fostering a collaborative and productive culture for employees. We're here to support organizations made up of people that move fast and think big. The ones who work together to solve hard problems and relentlessly pursue better.
You belong at Code42 if you crave being a part of a transparent and team-first culture, you want to drive innovation, and security is always top of mind. We look for authentic people who are inquisitive, enjoy solving complex problems, and provide diverse insights to help us think differently and thrive together.
Interested? Head to code42.com/careers to learn more about why we've consistently been recognized for the quality of our product and the culture of our company. Don't wait. #BeCode42
WHAT YOU'LL BE DOING:
We're evolving security to operate at the speed of DevOps. Our Platform and Application Lifecycle Security (PALS) Team provides practical, risk-based and relevant guidance to our development teams so they can build secure products faster, with a focus on security operations, security automation, and security risk management. Together, we win when our product development teams have the context, resources and tools needed to build, deploy, and maintain secure code autonomously.
You will bring your curiosity and desire to learn while you leverage your technical expertise to identify and deliver high impact security solutions that scale across our infrastructure. You will help define, refine and review our automated security tooling, assist in the management and resolution of product and infrastructure vulnerabilities, and enable the business to continue delivering a high-quality security product.
YOU'LL BE RESPONSIBLE FOR:
Understanding security best practices and company security policy to provide actionable guidance for our product development teams

Partnering with our infrastructure teams to ensure security is sensibly applied across our operating environments

Performing security risk assessments for product features and identifying potential gaps and opportunities in existing security controls

Researching and designing automated security risk mitigation technologies for our cloud environments

Integrating security tools into existing infrastructure

Ensuring tools used to support secure development are designed and deployed to provide actionable data to the teams dependent on them

Other software engineering and operational application security responsibilities, as required

Where permitted by applicable law, must have received or be willing to receive the COVID-19 vaccine by date of hire to be considered for employment
SKILLS AND REQUIREMENTS:
4 year college degree AND 5+ years of professional experience OR a combination of training and relevant work experience in an information security or software development role

The ability to effectively communicate and collaborate with cross-functional teams

The ability to understand and consider new ways to solve old problems

Experience with delivering secure solutions via cloud services, such as AWS and Azure

Solid understanding of software engineering and secure development principles

Experience with threat modeling, security design reviews and risk assessments

Proficiency in at least one programming language

A desire to automate mundane and repetitive tasks
Preferred:
Experience working with HashiCorp Terraform

Experience with AWS Services, specifically container-based and server-less architecture

Experience with Microsoft Azure functions

Experience with security testing tools such as OWASP Zap, Portswigger Burp Suite

Experience with integrating security tools into CICD pipelines

Experience using common IAM, logging, monitoring, configuration and system management technologies
We offer a competitive salary that includes base + company bonus + equity. Final salary will be based upon experience and geographic location. Salary range: $ 120,000 - $140,000
WHY #BECODE42:
A first-class onboarding experience which includes professional development and personal development all while learning and living our Code42 values. We provide comprehensive benefits that include; health, dental, vision, and wellness, 401k + employer match, parental leave, pet insurance, generous paid time off and volunteer opportunities. At Code42 everyone is an owner. We participate in commission or bonus plans and all employees receive stock options. We win together.
---
Code42 values workplace diversity and ensuring an environment of mutual respect. Employment opportunities are available to all applicants without regards to race, color, creed, religion, sex, national origin, age, marital status, veteran status, sexual orientation, gender identity or expression, disability, genetic information, or any other category protected by law. We believe that diversity and inclusion are critical to our success, and we seek to recruit, develop, and retain the most talented people from a diverse candidate pool. We are proud to be an equal opportunity employer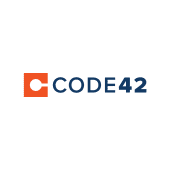 Code42
Big Data
Cyber Security
Enterprise
SaaS
Security
Software
0 appplies
274 views